The MITRE Air Force Cyber Operations Portfolio, in collaboration with Bridging Innovation, is working with MassChallenge Texas to help shape and scope their next accelerator program in San Antonio. In late January, MassChallenge Texas, which manages established accelerator programs in Austin and Houston, hosted local community leaders from San Antonio including MITRE, and Air Force, Port San Antonio, San Antonio Spurs, and SwRI, at the AT&T Center in San Antonio. MassChallenge shared their plans to expand into the San Antonio market in 2021, focusing the new program on sports technologies (Spurs) and cyber security (AF, MITRE, SwRI).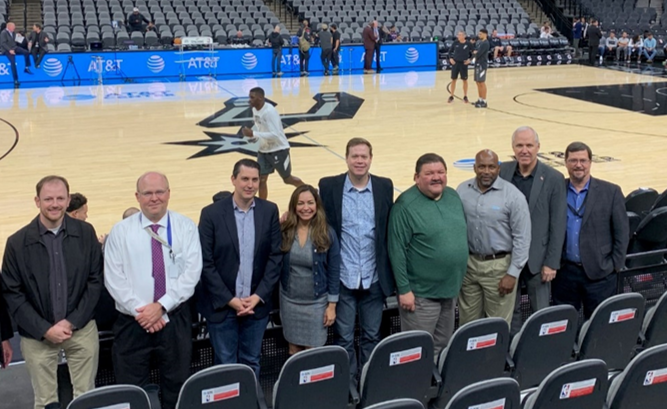 Left to right: Will Price (MITRE), Mike Leonard (MITRE), Jon Nordby (MassChallenge Texas), Yvette Willis (MassChallenge Texas), Mike Millard (MassChallenge Texas), and Vidal Rodriguez, Troy Matthews, James Barnett, and Ken Pennington (Air Force Cryptologic and Cyber Systems Division) meeting to accelerate sports tech and cyber security startups in San Antonio, Texas.
Headquartered in the United States with locations in Boston, Israel, Mexico, Rhode Island, Switzerland, and Texas – and with vertical programs in HealthTech and FinTech –  MassChallenge is committed to strengthening the global innovation ecosystem by accelerating high-potential startups across all industries, from anywhere in the world.
Click to continue reading about MITRE's shaping of MassChallenge San Antonio