HANSCOM AIR FORCE BASE, Mass. – Program executive offices at Hanscom established intensive, in-person training for acquisition professionals with entrepreneurs at off-base locations by working with private sector partners.
Banshee is a two-week course July 16-26 in Boston designed to build fully-capable acquisition professionals by catering to multiple career fields. It will provide lessons in program management, contracting, financial management, testing, engineering and other relevant subjects.
"We want Hanscom program offices to be able to see what it's like to partner with the government from the perspective of a small startup," said Christian Melton, partnerships manager at MassChallenge Boston, which is providing Hanscom with space, materials and many of the instructors for Banshee. "We also want them to take that entrepreneurial spirit back to the government."
The partnership is a direct result of Hanscom building relationships with local entrepreneurial education and networking organizations like MassChallenge and the National Security Innovation Network, formerly called MD5. Acquisition professionals from PEOs Digital and Command, Control, Communications, Intelligence and Networks, as well as Nuclear Command, Control and Communications are eligible for the training session.
"Educational opportunities like these are how our newer and mid-level acquisition professionals distinguish themselves," said Steven Wert, program executive officer Digital. "We're all-in on this, and we want our workforce to see this as the first of a series of new and empowering training opportunities. This is where you get the tools to do new and exciting things within your programs."
Attendees will hear about entrepreneurship from academics at Babson College, located in Wellesley, Massachusetts. They will also attend courses on the Small Business Innovation Research program, artificial intelligence, machine learning and secure cloud systems, to help them acquire better technology for the Air Force from more diverse businesses.
"This training opportunity is about encouraging a growth mindset in acquisition, by connecting Air Force personnel to incubators and startups for joint learning," said Adam Freudberg, a contractor who advises Hanscom PEOs on innovation and collaboration. "We hope we can increase productivity and efficiency, and bring in new ideas by offering the Air Force new ways of thinking about industry engagements and flexible acquisitions."
Click to read the full article on Banshee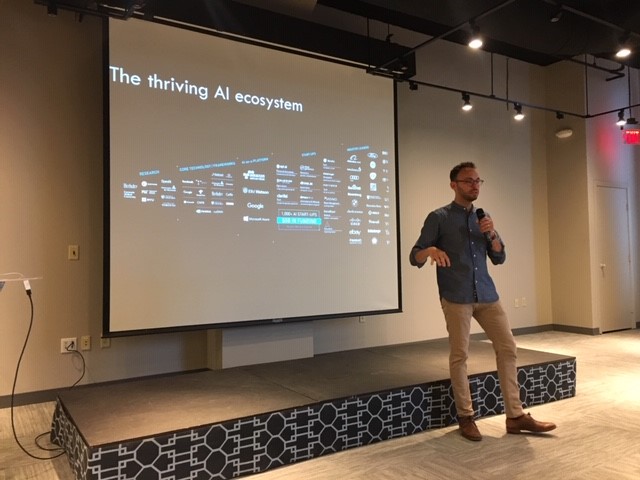 MITRE's Mikel Rodriguez gives a "Machine Learning Safety, Security and Privacy 101" class to Banshee at MassChallenge. MITRE staff not pictured- Deb Zides presented "Mid-tier Acquistion (MTA) and Dan Ward provided an in-depth view of Trimming during his talk on "Opportunity Capture and Trimming"